Santa Tecla got the taste of their first victory of the championship beating Chalatenango by a score of 2-1 on the 7th day at the Clausura Tournament 2020 in the match that took place at the Las Delicias stadium. Ricardo Ferreira scored a double; the parrots cut the streak of 9 games without winning. The meeting figures were Ferreira, Aimar, and Torres who entered the field in the second half. Santa Tecla started the match with an obligation to win the first game of the tournament and the biggest bet that they made was Kevin Reyes' band who tried to break Chalatenango's last line a lot of times. The northern team was able to show a lot of maturity on the field as part of their strategy. They were also able to handle all the kinds of pressure that were imposed on them by the premises that caused danger.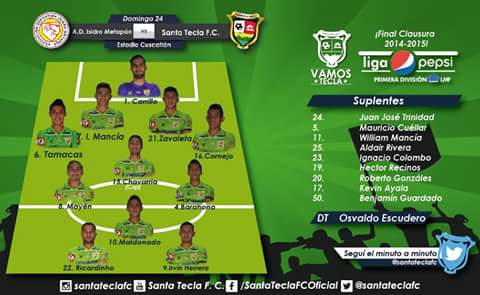 After being at a disadvantageous position and taking the strategic success of Escudero, Juan Ramon Sanchez was able to take it as evidence. He responded with another player's entry, Boris Morales by Wilson Palacios who was thinking of a different idea at the attack side or head. Tecla was able to play in their role. They did not let the Chalatenango team wake up. After the draw at 37 minutes, Chalatenango lost their concentration from the game and as a result of that, Pedro Orello got to see his second yellow card and was sent out of the field because of a foul made on Juan Aimar.
Chalatenango continued to harm the right
wing where William Torres and Kevin Reyes found the Achilles heel of the box from the northern side. However, the locals were persistent in their need to score the 3
rd
goal and William Torres, Ricardo Ferreira, and Juan Aimar, the trident put in some trouble in the northern defence, but he was able to solve the problem at the last minute.